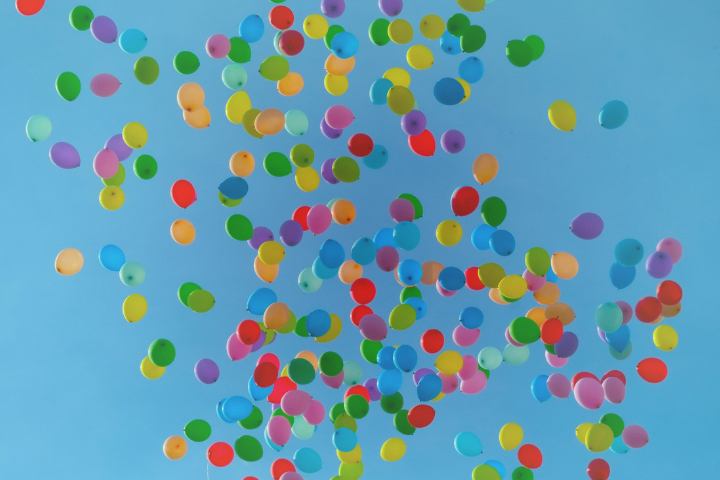 This month marks one year from the launch of AAS Open Research. On this occasion, we reflect on the encouraging response to and impact of the platform and look forward to the future.
Forty research outputs were published over this first year. These varied on several parameters: geographically, 38 of the 40 came from nine countries in Africa, with Kenya publishing the most, closely followed by Uganda and Ghana.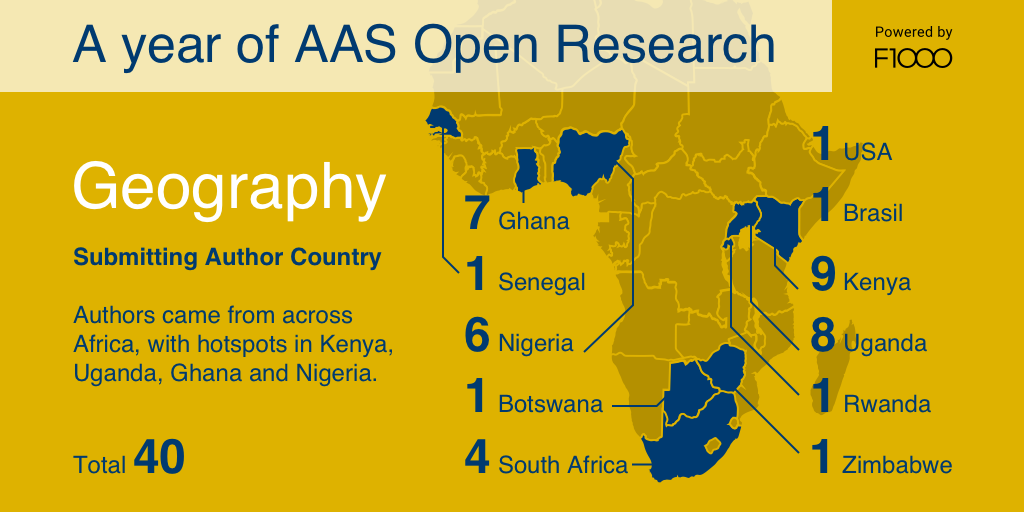 We are proud that labs of multiple members of the AAS Advisory Board – Gordon Awandare, Alison Elliott and Nicky Mulder – led by example by submitting excellent work early on. The AESA program whose researchers submitted most frequently was THRiVE DELTAS, closely followed by H3Africa and CARTA DELTAS.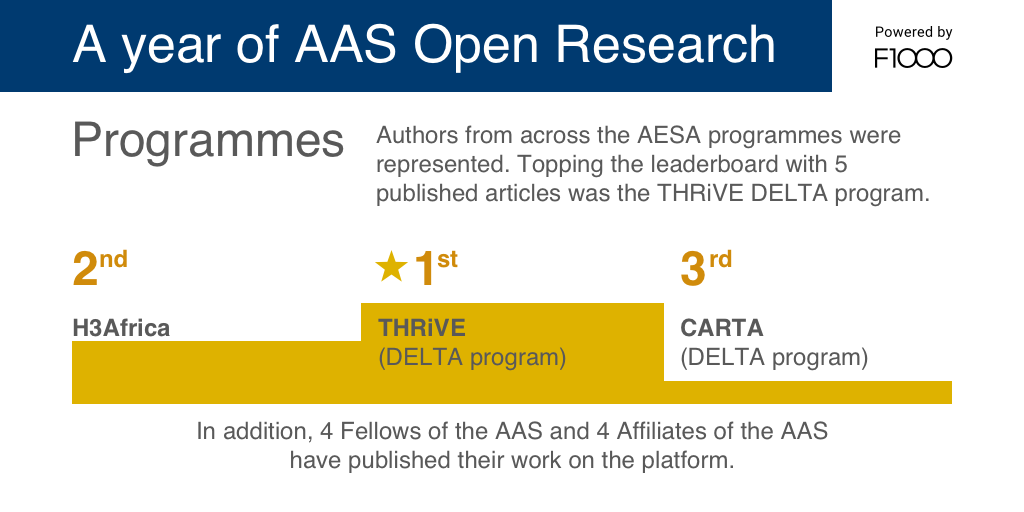 AAS Open Research authors published not just traditional research articles, but also methods, open letters, systematic reviews and academic posters. Scientific fields represented were varied and included agriculture, research ethics and microbiology. Interestingly, the gender mix of submitting authors was exactly 50:50.
Peer review reflects markedly different representation compared with authorship, with a third of reviewers coming from Africa, and most of the others from North America.
AAS Open Research is also broadening the content that it publishes that is not subject to peer review. These include documents, such as strategy and position papers, some of which originate from the Academy itself. The platform also publishes conference reports, and a major inventory of pharmaceutical research is in preparation. We are delighted that the official abstracts from the DELTAS Africa 2019 Annual General Meeting, to take place in Dakar, Senegal, in July, will be published on AAS Open Research.
Rapid publication, a major feature of AAS Open Research, has indeed proven to be a leading reason that authors choose to submit their work to the platform. On average, submission to publication has taken about a month, with two peer reviews received just ten days later.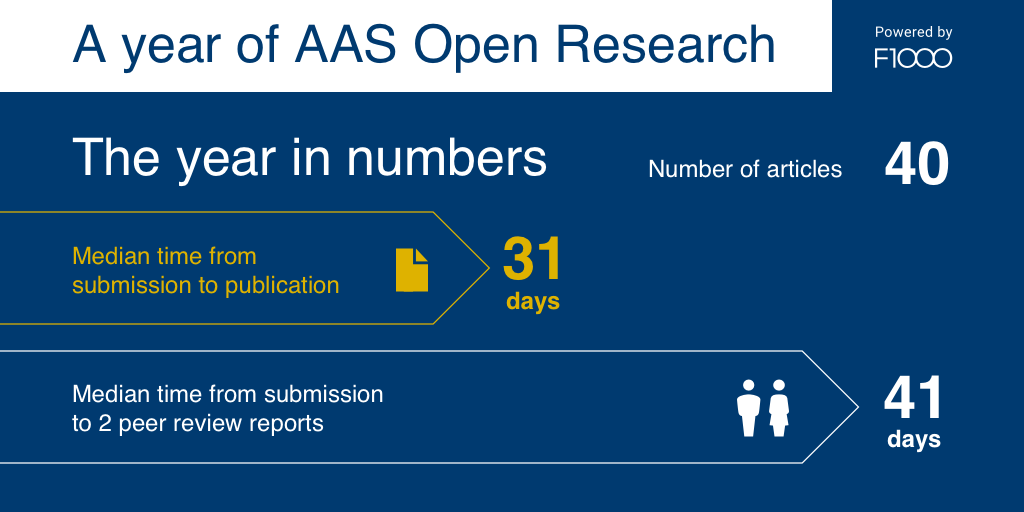 However, the time between receipt of two peer reviews and passing peer review has proved to be a point at which author engagement can falter, the result of which is that just 13 of the 40 publications have been fully indexed. This will therefore be an area where we will offer greater author guidance in the coming year.
It is understandable that busy scientists tend to move on to other priorities once their work is published; however, failure to address a qualified peer review (in the iconography of the platform, a question mark versus a check) results in a delay of indexing. In the coming year, we will dedicate more effort to educating authors about the importance to them of addressing reviewer comments so that their work can go beyond just publication to achieve passing of peer review: this is the threshold for full indexing – including in PubMed – and makes work much more discoverable.
Perhaps the most exciting development of the first year of AAS Open Research has been the launch in April of our first Gateway, with the African Society of Human Genetics (AfSHG.) For its members and the greater genetics community, the AfSHG Gateway represents the realization of longstanding determination to create a publishing home that not only offers the opportunity to publish work transparently, rapidly and cost-effectively, but also to provide a branded home for Society news, conference output and other resources.
As immediate past AfSHG President Michele Ramsay told members upon launch of the Gateway; "AAS Open Research is a sustainable solution and our membership will benefit from immediate publication of their research and scientific activities, in addition to a transparent and rigorous review process. We believe in a fully accessible publishing model where all can benefit and hope that this Gateway will enable us to further our twin goals of knowledge sharing within Africa and global recognition for African science."
Following closely behind the AfSHG Gateway are similar partnerships in the works, with the African Population Health Research Center (APHRC) and others. We believe that such collaborations will not only directly serve the members of organizations dedicated to the advancement of science on and from the Continent, but will also be key to propelling African researchers to worldwide leadership in the promotion of progressive publishing practices.
Indeed, AAS Open Research has served to amplify the voice of African science in the important global discussion about the need to improve the equity, fairness, accessibility and measurement of research output. The Academy's endorsement of Plan S of the European Commission has proven to be a critical reinforcement of this international effort to battle the tyranny of entrenched publishing practices and reduce the barriers to research sharing, collaboration and data-based measures of impact.
The year since launching AAS Open Research has featured steady growth in the number of submissions as well as the fields of science, the form of the output, research groups represented, and critical partnerships. We look forward enthusiastically to building this momentum in the coming year to contribute to quality and reach of research across the Continent.

---