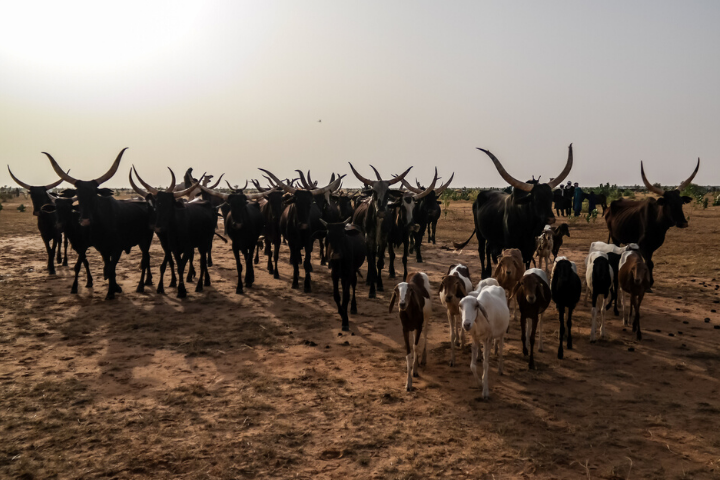 Marthe Montcho is a Beninese Postdoctoral Research Fellow at the University of Abomey-Calavi, Benin Republic, West Africa. She is also an African Academy of Sciences postdoctoral grantee supported by the Climate Research for Development (CR4D) programme. CR4D, strengthens links between climate science research and climate information needs to support development planning in Africa. In this blog, Marthe shares information about how her research project will contribute to the development of adaptation strategies and the best models that improve milk production and, in turn, improve the livelihoods of the women affected. 
Despite dairy farming being one of the most important enterprises that dominates the economic activities of women in many West Africa countries, there has been limited research carried out to help them adapt to climate change. In West Africa, about 63.7% of rural women play a key role in the local dairy sector by collecting and processing milk in small processing units. But with the dry season becoming longer and warmer, the quantity of sour milk increases year on year despite various efforts to reduce it.
The reduction in rainfall and temperature rise in West Africa has affected grazing systems, which in turn has changed the composition of pastures and fodder quality. This has had a negative impact on cattle feeding and has drastically reduced the quantity and quality of milk produced. Climate change represents a very real, and profound, challenge to the quality of life for these dairy women.
As a specialist in Animal Husbandry and Livestock Production Systems, I have always been concerned about the recent climate change situation facing dairy women. Unfortunately, the program in which I conducted my doctoral research was predefined with an assigned research topic. After my PhD graduation, I wanted to find funding to allow me to focus on my chosen research on dairy women and climate change. I strongly believed that the best way to help them to deal with climate change is to develop adaptation strategies, which can only be achieved through scientific research. When I saw the call for applications for a CR4D Fellowship, I immediately started the application and was quick to submit it a few days later.
I felt confident that I would find the funds to begin my research given my interest in pastoralist/dairy women and in my commitment for the future of the local dairy sector in West Africa. I would like to thank AAS and all the institutions that support African early career researchers and the creation of innovation platforms. Scientific research is the key to Africa's development.
To help dairy women cooperatives to adopt the best climate adaptation strategies and improve their livelihoods, I am investigating (i) the factors determining and characterizing strategies used by dairy women to face climate change such as cattle feeding difficulties, water supply difficulties and control of milk rapid fermentation and conservation , (ii) evaluating the impact of each strategy on milk production, milk quality and women livelihood, and (iii) simulating and modelling the best strategies that could be used by women pastoralists to address climate change. At the end of my research and based on the research findings, I will develop pictorial technical guideline sheets edited in three main dairy farmers' local languages of Peulh, Haoussa, and Bariba.
To assess the strategies used by dairy women battling climate change, my research project has adopted a purposive sampling technique to interview dairy women with the intimate knowledge of adaptation strategies against climate change in West Africa. The sample consists of a total of 720 dairy women, with 180 selected from each country of Benin, Niger, Mali and Burkina Faso. Apart from individual interviews, 10 dairy women cooperatives have been considered for focus group discussions in each country. One to one interviews increase the response rate and help to deepen the data on existing coping, profit and adaptation strategies used by dairy women cooperatives in response to climate change. The focus group discussions allows one to see the group innovations developed, as well as the collective actions and decisions taken to deal with the climate and secure their livelihood.
Based on all the data collected and results, we will model the best strategies that could be used by women pastoralists to address climate change to improve their milk production and income.
The findings from my research will be developed into guideline sheets, which will describe the best strategies to be adopted to improve their milk production and income. These sheets will be disseminated to dairy women during restitution workshop sessions and research results diffusion seminaries that will be organized in the different villages surveyed in Benin, Niger, Mali and Burkina Faso.
---