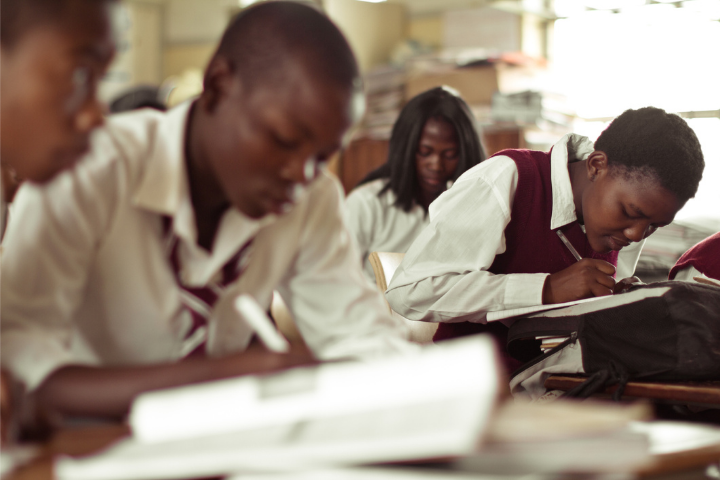 Around 1.2 billion people, or 1 in 6 of the world's population, are adolescents aged 10 to 19. Most are healthy, but there is still substantial premature death, illness, and injury among adolescents. Illnesses can hinder their ability to grow and develop to their full potential. Alcohol or tobacco use, lack of physical activity, unprotected sex and/or exposure to violence can jeopardize not only their current health, but also their health as adults, and even the health of their future children.
Adesola Oluwafunmilola Olumide is a Senior Medical Research Fellow and Consultant Physician at the Institute of Child Health, University of Ibadan and University College Hospital, Ibadan, Nigeria. She is also a Developing Excellence in Leadership, Training and Science (DELTAS) Africa Community and Public Engagement (CPE) Fellow. The DELTAS Africa CPE programme establishes two-way interactions between scientists and non-scientist/non-specialist publics about science, research and innovation; intended to provide opportunities for mutual learning and benefit. DELTAS Africa CPE is implemented through the AESA Platform. AESA (Alliance for Accelerating Excellence in Science in Africa) is a funding, agenda-setting, programme management initiative of the African Academy of Sciences (AAS), the African Union Development Agency (AUDA-NEPAD), founding and funding global partners, and through a resolution of the summit of African Union Heads of Governments. DELTAS Africa CPE is supported by Wellcome and the United Kingdom Foreign, Commonwealth and Development Office (FCDO formerly DFID).
Summary
In this blog, Adesola discusses how secondary school enrolment can be protective against adolescent engagement in health-risk behaviours such as cigarette smoking and unsafe sexual practices. Her research focuses on new health interventions to improve the health and wellbeing of adolescents, as they are a group that is often overlooked and neglected in nearly every health care system in Africa.
I wanted to find out what promotes or hinders secondary school enrolment and retention to use the information to create a wider community dialogue with stakeholders to raise awareness and to resolve the issue. I worked with adolescents who had dropped out of secondary school and those who were attending secondary school, because they are the ones who we need to keep in school, as I've found their health and wellbeing can suffer when they do not continue their education. We need to hear their stories to understand what led them to dropping out and prevent further dropout rates.
I asked the adolescents to take photographs of things and activities within their communities that they thought promoted or hindered senior secondary school enrolment. They could select up to 10 photos that they would then discuss in groups. Afterwards, we used a selection of these photos to create posters for a photo exhibition at a stakeholders' meeting with teachers, adolescents, parents, community members, school owners, and used the images to design information and engagement cards.
My team and I collected thoughts from teachers to balance them with the views of the adolescents. The teachers drew maps of their immediate community and included issues and resources that they considered to promote or hinder senior secondary school enrolment and retention. The community resource maps drawn were converted into posters and presented at a stakeholders' meeting.
Thoughts and discussions
We hosted a poster exhibition targeting senior secondary school students and teachers. The posters depicted relevant data from previous studies conducted among adolescents within the study environment. Teachers and secondary school students reviewed the posters, discussed them and provided additional insights.
We then created a project research brief, two documentaries and brief video interviews. The videos and documentaries are to be posted on the website of the Society for Adolescent and Young People's Health in Nigeria and will reach a wider audience including those who did not attend the programme.
All that I had learnt from the adolescents and teachers was presented and discussed at a meeting themed 'Education is a Vaccine' with stakeholders from private secondary schools in Ibadan, Nigeria, State Ministry of Education ministers and school principals. Other stakeholders included officials of the association of school proprietors, officials of the All Nigeria Conference of Principals of Secondary Schools (ANCOPSS), members of the Oyo state innovation hub, parents, representatives of notable media houses, teachers, school counsellors and researchers. This stakeholders' forum was a great opportunity for them to see and hear from the adolescents to learn about feasible interventions they can implement to address senior secondary school dropouts and bring about change.
Bridging the gap and empowering all parties
Engagement of my research was previously limited to sharing results with stakeholders and having a discussion with them around my research findings. My CPE grant challenged me to use more participatory methods for engaging with the community. I was particularly delighted that the adolescents did a marvellous job of presenting their thoughts to stakeholders using the pictures they took at the photo exhibition. I see community engagement as a win-win for everybody, for the researchers and the community members whose lives are being investigated. I saw adolescents empowered to present their problems to adults who are in a position to make a change, and some of the adolescents who had dropped out of school expressed a desire to return to senior secondary school, complete their education and proceed to university.
Committed to promote change
The representative of the Oyo state Commissioner for Education declared that the state currently had the highest number of out-of-school children in South-West Nigeria. There is now a renewed interest by the government of Oyo state to increase school enrolment, retention and completion. He affirmed that the Ministry, would intensify efforts to reach students who had dropped out of school and get them back into education.
My team is currently working with the Ministry to get the out-of-school adolescents back to school. Ensuring senior secondary school retention is a big task, but we believe that we have contributed to ongoing efforts of the Oyo state government to tackle school drop outs, and we hope to soon see new interventions to encourage retention, with the primary focus on counselling services for adolescents.
---