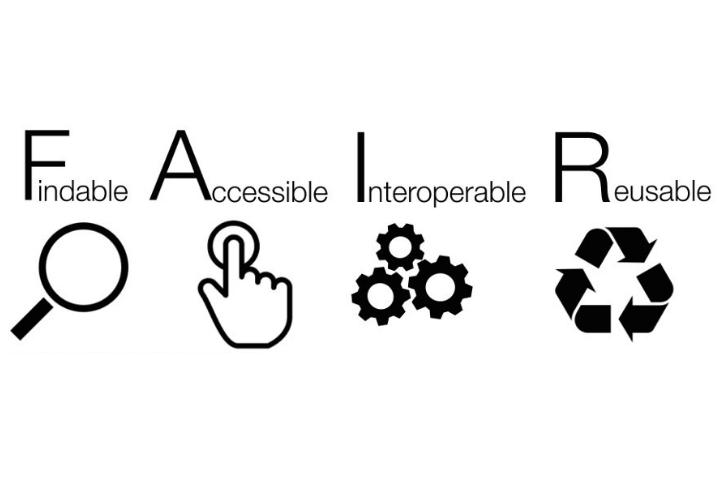 Sungya Pundir, Wikimedia commons, CC By SA 4.0
In support of International Data Week, Hollydawn Murray introduces our newly overhauled data guidelines. These guidelines have been rolled out across the F1000 platforms.
In March, I announced F1000's renewed commitment to data sharing and intent to focus on data quality. This week I am pleased to release F1000's updated data guidelines and quick data guides – both part of F1000's effort to help researchers maximise the potential of their data by best enabling reuse.
FAIRification
The FAIR data principles, published in 2016, have become a leading framework for scientific data management and stewardship. Despite this, in Figshare's annual report looking at global attitudes toward open data published earlier this month, 60% of respondents had never heard of the FAIR data principles.  Given the capacity of the 4 principles – Findable, Accessible, Interoperable and Reusable – to enhance reusability and reproducibility, F1000 is keen to promote these alongside an Open Data policy.
With this in mind, our data guidelines have been refreshed to reflect the FAIR principles for data sharing. The guidelines are now framed around each of the four principles and demonstrate best practises in the field. At the same time, the guidance is now more instructive and breaks the practical work required by authors into 3 steps: prepare your data, select a repository, and add a data availability statement to your manuscript.
The driving force behind these changes is to improve the quality of data being shared while reducing the time and effort required to do so. And whilst the new guidelines are intended to provide prospective authors with the knowledge needed to share their data in accordance with F1000's policies, we recognise that there may be cases where researchers need additional help. F1000's editorial team will continue to actively support researchers in sharing their underlying data and code.
As part of this work, we have also removed the use of supplementary material across platforms – instead placing all critical materials in the Data Availability section or within the manuscript itself. The aim is to ensure that all materials associated with a manuscript are as FAIR as possible, while removing any confusion as to what is data and what is supplementary material.
We expect this standardised approach will improve the likelihood that materials are both reused and peer reviewed – whilst ensuring data is never lost as a supplementary file. This move away from supplements seems natural given that articles published on F1000 platforms are not subject to length restrictions, and the technology exists to support independently citable and discoverable materials.
These guidelines have been rolled out across the F1000 platforms including: Wellcome Open Research, Gates Open Research, HRB Open Research, MNI Open Research, and AMRC Open Research. As with all new initiatives at F1000, we welcome your feedback.
#beFAIRbeOpen
This week will also see the launch of our beFairbeOpen data guides. The aim of these quick guides is to provide researchers with simple direction when it comes to organising their data in a useful way, selecting a repository, and choosing a license — all of which were identified as key challenges to data sharing in in the 2018 State of Open Data report. Afterall, helping researchers overcome common barriers is another way we can help encourage data sharing.
Excited?  Be sure to check #beFairbeOpen all week to be among the first eyes on these guides.
As you can imagine, there is so much data on data available that this has really been an exercise in offering simplified information to researchers.  That said, we realise we still have a lot to cover! Further in the future, these guides will form the basis of a more in-depth Open and FAIR data manual.  To create a manual that is most useful to researchers, we're calling on members of the community to offer their expertise. If you haven't done so already, please let us know you are interested in working with us on this by signing up here.
---