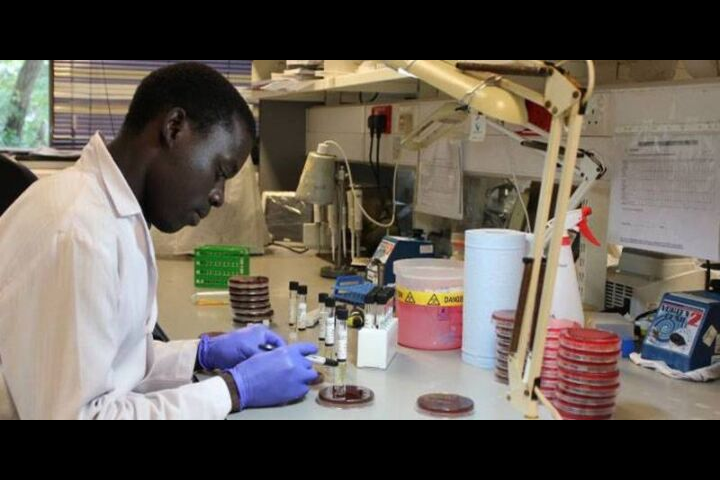 Catalysing scientific breakthroughs to develop novel but scalable ideas
Dr. Moses Alobo, programme manager at Grand Challenges Africa discusses one of the networks recent launches, the transition to scale for innovations programme, and explains how it can help drive societal impact.
The race for being the bearer of the world's 5G platform, with mind-blowing speed of the internet, is on. It is turning out to be a bare-knuckled fight for who will get the rights and develop capabilities to host the Internet of Things – literally whoever will connect everything together will control everything.
Such a platform would provide the needed technological advancements for the development of the next industrial revolution. Africa, on the other hand, has a brilliant opportunity for other leapfrog technologies with or without 5G technologies. Everywhere you look you will find attempts at innovation, why, because there is a lot that should work better than it currently does, and the populace is restless and demanding as it should be.
We need innovations to develop the continent, but the current challenge is how to reconcile the innovator archetype (represented by that young individual who builds a flying object in your village from a motorcycle engine, a solar panel and some pieces of wood) with the cut and dried African scientist who conducts high level research and is invited to only the 'president's session' in specialised scientific world congresses.
How do we bring together the former's can-do attitude with the latter's know-how, then focus it and deliver technologies and policies that solve some of Africa's greatest challenges? This holy grail for innovations is what Grand Challenges Africa, launched in 2015, seeks to build and showcase.
Grand Challenges Africa (GC Africa) a programme of The Africa Academy of Sciences, announced and closed its first transition to scale grants for its seed grant projects and pipelines from research partners. GC Africa previously announced seed grant calls in Maternal, Neonatal and Child Health (MNCH), antimicrobial resistance (AMR), drug discovery (DD), water sanitation and hygiene (WASH), with the last one in MNCH data science. Forty-four projects will be in the seed grant pipeline by the end of 2019.
This open and competitive sourcing not only selects big and bold innovations, but those that are also potentially impactful, sustainable and scalable, which are focused on fixing some of the continent's worst problems. It is the projects with proof of concept data behind their ideas that GC Africa would like to transition to scale.
The 5G world race is being played out on an axis involving industry and government, two of the stakeholders in Africa whose participation in the innovation ecosystem could benefit innovators the most. The government can be market shapers of innovations, by being net purchasers of innovations with a potential to create strong and alluring market pulls, or by dictating pathways for regulations which nearly always lag, or otherwise be the innovation priority setters by creating demand for certain innovations.
The push by GC Africa to work with African governments to create regional or country-based Grand Challenges seeks to unlock this box. There are specific targets of Sustainable Development Goal 9 (SDG 9) on industry, innovation, and infrastructure that relates to work in GC Africa. One of them is to enhance scientific research, upgrade the technological capabilities of industrial sectors in all African countries.
It plans by 2030, to encourage innovation and substantially increase the number of research and development workers per one million people, as well as public and private research and development spending. Industry and government, therefore, need to be part of the innovation ecosystem for development to be realised.
Research Institutions and Universities need to continue being bastions of innovations by actively participating in both pure and applied sciences in a way that fuels the pipeline of ideas for African development. These institutions need to have a few archetypical innovators who are able to 'see' through research projects and adapt them accordingly to market needs and realities.
This usually constitutes deconstructing scientific ideas and filtering out 'scientific noise' to only remain with what would respond to a society's needs. For example, one of our MNCH innovators validating the Edinburgh Postnatal Depression Scale (EPDS) versus the Mini International Psychiatric Interview found a high incidence of maternal depression in the validating community with disturbingly low penetration of psychiatrists. She did not settle with presenting her results but went further to devise an applicable training for Traditional Birth Attendants and Community Health Workers. Essentially creating a task-shifting for the detection and management of maternal depression.
The call to action for this Transition to Scale announcement is to bring the partners with commercialization capabilities to the fore and increase their share of voice in promoting innovations that are ready to scale. Grand Challenges family comprising of Grand Challenges Enterprises (funded by BMGF), Grand Challenges development (USAID), Grand Challenges Canada, Grand Challenges South Africa, Grand Challenges Africa, and Grand Challenges Ethiopia have created a robust pipeline of innovators who have won various seed grant calls for proposals.
These not only require funding support but a long list for possible areas of support that includes; training needs assessment and preceptorship matching, intellectual property and commercialization training, entrepreneurship workshops and training, network building and mentor matching workshops, regulatory issues, market vehicle assessment, business plan development, market research and target market assessments, product manufacturing line development, technical innovation assistance, etc. the list is endless. It is therefore paramount that organizations bring their collective capabilities to deliver the much-needed traction as no single organization can do this alone.
Likewise, we need innovators to achieve independence from grants that supported their initial work and develop a business mind whether their innovations will be scaled using the public development pathway or the private enterprise model. Due to the fear of the 'valley of death' for innovations, we need to reduce the period between needs or mitigate the risk to such an extent that innovators are not stuck in cycles of grant dependence.
I would advise the innovators from scientific backgrounds to try the market and move into the iteration cycles as soon as they can. We need them to start attracting venture capital and really toast their achievement as they both scale their innovation as well as contribute to social impact.
---