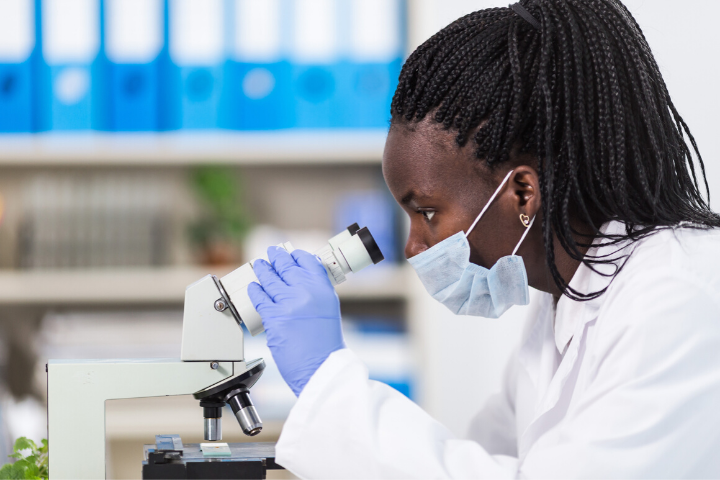 A Q&A with Alphonsus Neba, The AAS Deputy Director Programmes, Science Support and Systems and Programme Manager for DELTAS Africa, and Susan Gichoga, AAS Senior Grants Officer, to explain why the DELTAS Africa programme was established, how it works, and the new areas of research Phase II of the programme will cover, such as social sciences and humanities research.  
The World Economic Forum forecasts that Africa will be home to the world's largest working age population of 1.1 billion by 2034, 14 years from now. It is estimated that about a million researchers are needed in Africa. The African Academy of Sciences (AAS) 'Developing Excellence in Leadership, Training and Science in Africa (DELTAS Africa) programme', phase I, has been operating for four years, with the vision to support the next generation of African research leaders. At the core of this long-term strategy for funding African science is for the decision-making process to be based firmly on the African continent.  
DELTAS Africa is a programme that AAS implemented through the AAS funding, agenda setting and programmes management platform, the Alliance for Accelerating Excellence in Science in Africa (AESA Platform), which was formed by The AAS and AUDA-NEPAD with support from global partners, Wellcome, DFID and the Gates foundation. DELTAS Africa II is funded by Wellcome and other additional global partners  
With the first phase near completion, sights are now set on the second phase of the programme, that will continue efforts to reap the population dividend by fostering intra-Africa collaboration, improving research environments and training researchers to conduct important studies that will contribute towards addressing Africa's developmental challenges. 
In this Q&A with Alphonsus Neba, The AAS Deputy Director Programmes, Science Support and Systems and Programme Manager for DELTAS Africa, and Susan Gichoga, AAS Senior Grants Officer, we find out more about the DELTAS Africa programme, including why it was established, how it works, and what this second phase hopes to achieve.  
What is the DELTAS Africa programme and what has it been able to achieve? 
DELTAS Africa is a research capacity strengthening programme. It is centered on developing a critical mass of globally-competitive African research leaders who create research and development capacities for Africa-led innovations and solutions necessary to achieve the goals of the Science, Technology and Innovation Strategy for Africa (STISA 2024), Sustainable Development Goals (SDGs 2030) and Agenda 2063. 
Why are we launching a second phase of DELTAS Africa?
DELTAS Africa is envisioned as a long term programme; it has a 20-year horizon. Phase II builds on the successes and lessons learnt from the first phase.   
Each phase follows a 5-year cycle with some programmatic components inherited from the previous phase, with unique components added in response to changing environment and/or need within the environment.  
Wellcome is the major funding partner for phase I and II and we expect more partners to come on board.
What led to a successful application for the second phase of funding? 
Research funding is a long-term engagement if real impact is to be actualised. In addition, the successes of DELTAS Africa phase I, a strong grant management capacity at the AAS built in the last five-years and trust amongst grantees and funding partners in Africa and globally. 
In a few short years, the AAS has proved to be a reliable, trusted and foremost pan-African STI partner on the continent and a preferred partner for international research funding agencies as a result of its effectiveness and efficiency and the relationships and networks it has built with funding partners.
The AAS has also been very innovative in its approach to grantsmanship, introducing the GFGP standard which addresses a major gap in good financial governance on the continent and globally. Our forward-thinking approach to grant making, a strong grants management system and environment and a highly competent team of professional staff are some of the factors that led to the success of the second phase of funding.
What are some of the lessons from the first phase that have shaped the thinking of this second phase of the programme? 
We recognise that basing funding decisions on excellence and competitiveness alone is not a sound model as it contributes to the underdevelopment of weaker research institutions and research ecosystems on the continent. Phase II of DELTAS Africa will consider:  
Balancing excellence with equity, such that the developmental dividends arising from our funded research are evenly spread across the continent. This also applies to the recruitment of trainees.   
Strengthening research cultures on the continent and will require applicants to demonstrate how they will effectively address safeguarding, gender equity, diversity and inclusion, research misconduct etc.  
Addressing the co-funding gap from African governments, and the deployment of our Good Finance Grant Programme (GFGP) in our due diligence processes.   
Building mechanisms to develop a strong research management enterprise within participating institutions and create career pathways for trainees. 
What successes did you record in the first phase? How are you looking to amplify these successes in the second phase? 
DELTAS Africa Phase I has been the watershed research programme on the continent that is shifting the centre of gravity of African science to Africa. It has demonstrated that African research leaders can operate at the same level with the best in the world if provided with strong enabling research environments. 
African-led networks through the support of DELTAS Africa I funding have trained over 1,300 rising research leaders who are finalizing or have completed their master's, PhD and postdoctoral training programmes. 
DELTAS Africa has built career pathways for scientific researchers who now occupy senior positions and various leadership roles in regional and global institutions and committees such as the World Health Organization and Presidential Advisory panels.   
The DELTAS Africa programme has made significant contributions to the scientific body of knowledge, by increasing the quality and quantity of research publications. A total of over 450 articles have been published and featured in top scientific publications such as Nature, Science and others. 
Implementing projects that have a community and public engagement component is a trend that has been embraced by the DELTAS Africa community. Other sister programmes, such as the Human Heredity and Health in Africa (H3Africa) and Grand Challenges Africa (GCA) are embracing and adopting this concept. 
In addition, the DELTAS Africa grantees have attracted significant levels of additional funding and have received prizes and awards in recognition of their scientific excellence. The programme has also supported the upgrade of research facilities and environments in different parts of the continent. For example, we now have a state-of-the-art genomics facility in Mali and Uganda, which will continue to contribute to capacity development of genomics research across the various regions in the long term. The impact of this cannot be underestimated. These are but a handful of successes associated with DELTAS Africa. 
In phase II of DELTAS Africa in addition to providing funding to research training we are also looking to amplify these successes through multiple science communication activities to be able to showcase the benefits of funding research for development in Africa. 
What are some of the challenges you faced in the first implementation and how are you looking to resolve these for the second phase? 
Some of the challenges were limited to institutional cultures at the various lead and partner institutions. DELTAS Africa in a few occasions did not receive the level of support it required from various lead and partner institutions. This led to delays in securing research equipment and consumable and ultimately to delays in programme implementation.  
Related to the institutional culture problem was the issue of getting ethical approvals for a few of the various research projects being implemented. We have since developed and launched the GFGP standard which we hope will help in improving the situation, which was largely of a grant governance nature. Our ReMPRo Africa programme designed to strengthen research management function at research institutions, will assist in addressing issues around ethical review of research proposals among other research management challenges.
Lastly, some challenges were faced in programmatic and financial reporting. For example, in delineating expenditure per programme thematic area and establishing the true costs associated with training a quality PhD student on the continent. 
Given the long-term nature of research funding and its resultant impact, DELTAS Africa II will be a great phase to determine realistic metrics to measure the impact of the DELTS Africa programme.
How do you see the second phase evolving and why? 
DELTAS Africa Phase II promises to be an exciting opportunity for both the AAS and its AESA platform, funding partners and potential applicants/consortia. As earlier mentioned, we are introducing a suite of new strategies designed to address gaps identified during DELTAS Africa Phase I. This includes balancing equity and excellence within the constitution of various consortia. We will also address issues around research culture on the continent.  
We want DELTAS Africa to be the flagship research programme on the continent that challenges conventional research leadership capacity building design and implementation.
We are introducing new thematic areas including non-communicable diseases (NCDs), social sciences, interdisciplinary and multi-disciplinary research designed to contribute to the attainment of STISA and Africa's SDGs.
We envisage that competition will be stiff, with existing DELTAS Africa programmes competing with new applicants. We also envisage that mainstreaming our GFGP standard, ReMPro Africa, science communication, CPE etc will be a game changer in improving the research environment on the continent. Just being able to prepare and submit an application for DELTAS Africa II will leave a lasting impression on potential applicants! 
This second phase includes new priority research areas. How and why were these selected? 
AESA, the AAS funding, agenda setting and programme management platform, identifies research areas that are a priority and of relevance to the continent. Through consultation with various expert groups on the continent, AAS Fellows, relevant WHO, AU, SDGs and AU policy documents, and national policies and strategies, the AAS is able to identify key priority research areas, which are also aligned to the AAS's thematic research areas.  
For example, mental health and NCDs are estimated to be reaching epidemic proportions and at crisis levels on the continent. A consultation exercise undertaken by the AAS showed that the neglect of social sciences and humanities research on the continent has led to a crisis where government policy-making processes no longer benefit from quality social science research input. 
The thematic areas for DELTAS Africa phase I still remain a priority, however, the new areas in phase II identified by the AAS provide the crucial diversity required to address the continent's most pressing research needs. 
You are also looking for the inclusion of 'weaker' institutions. Why is this important and why is balancing equity and excellence important in this second phase? 
For the AAS, balancing merit and equity is crucial for capacity building and equitable resource distribution. It is important to recognise and appreciate that throughout Africa, institutions have different strengths and weaknesses.
The second phase promotes institutional growth through peer-to-peer learning and intra-African collaboration. It also encourages scaling up of successes through induction. This is one of the main reasons why DELTAS Africa adopted a consortium-based model, to encourage intra-African collaboration and capacity building across the various institutions. 
What advice would you give to would be applicants?  
Applicants should present novel ideas with realistic programme costs that offer value for money. All applications should be submitted within the deadline and most importantly be implementable within five years. 
What mistakes should they avoid? And what particularly would resonate with you or reviewers in an application? 
In addition to the points outlined in the previous question, applicants should avoid including well-known scientists without clearly specifying the role they will play in the research programme. They should also clearly outline the skills and expertise of each consortium partner or institution and their role in the programme. 
We would like to see strong female research leaders as lead applicants or co-applicants and sound strategies across various DELTAS Africa thematic areas. Of course, going the extra-mile to secure co-funding from governments or commitments thereof would resonate with reviewers especially if all other considerations have been adequately addressed. 
Key dates to take note of: 
Call for applications opens on 17 December 2019. 
Call for applications close on 28 February 2020 at 1700 hrs East African Time (EAT)
---