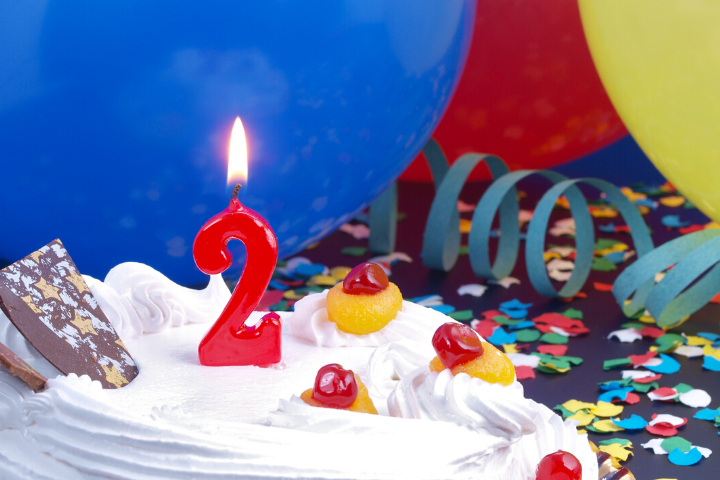 This month marks two years since the launch of AAS Open Research. We have taken this opportunity to reflect on the impact and development of the platform over the last two years and to look forward to the future.
On the up
Since launch AAS Open Research has published 60 articles covering the breadth of The Academy's focus areas, from human health and nutrition to agriculture and climate change. Overall, 81% of authors publishing on AAS Open Research are based in Africa at the time of publication. We are delighted to see the spread of our authors across the continent grow over the last year with 19 African countries now represented, up from 9 the year before. Uganda and Kenya currently lead the table in numbers of publications, closely followed by Ghana and then South Africa.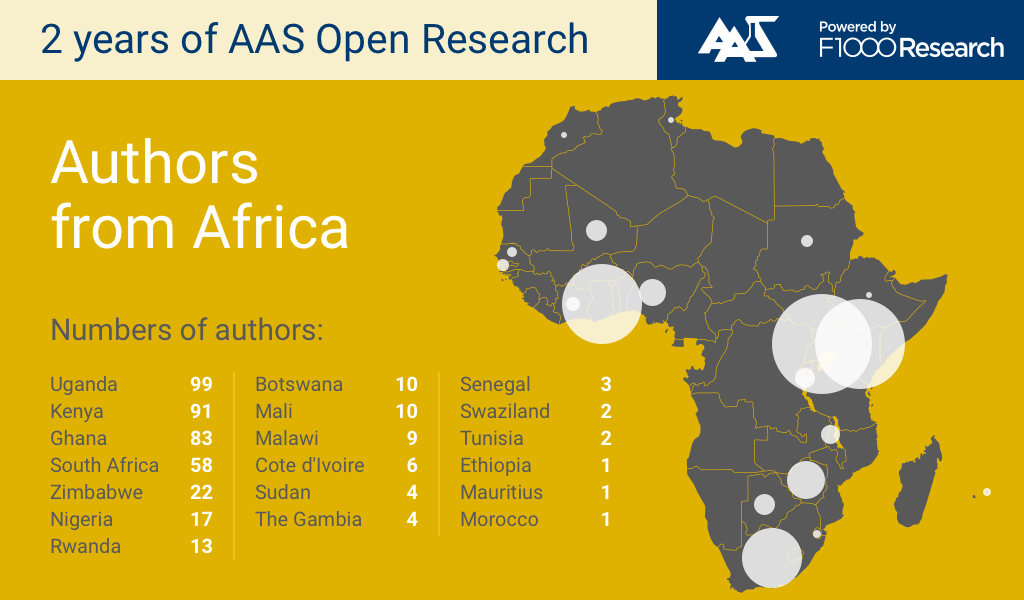 The highlight of 2020 so far for AAS Open Research is the news that we have been accepted for indexing on PubMed Central. This is a significant milestone that will further increase the visibility and readership of research published on the platform. This decision also reinforces AAS Open Research as a credible and reliable source of high-quality information.
Capacity building
All peer review on AAS Open Research is conducted post-publication, with peer review reports made open to read and cite. In addition to improving transparency, we hope this approach will support training and capacity building in peer review. Over the last year 48% of peer reviewers on AAS Open Research were based at African Institutions, compared with 34% the year previous. There is still a way to go in terms of recruitment and training of reviewers across Africa, a priority we have identified for focus in 2020.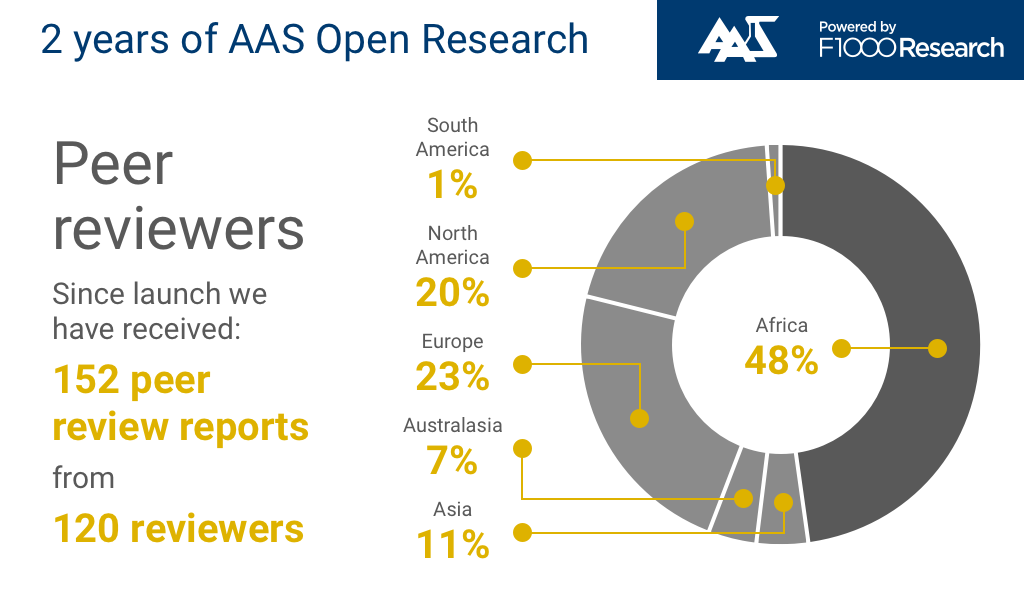 Supporting research communities
This time last year we announced that AAS Open Research would be supporting the 2019 DELTAS AGM by publishing Meeting Abstracts and Posters from the conference, held in Dakar, Senegal last July. In total 132 Abstracts were published and assigned a DOI. These abstracts continue to be viewed, downloaded and their citations tracked. In a year when in-person gatherings have become increasingly difficult, we will build on this capability to support publication of materials from virtual events and broaden access to this vital early-stage research.
In addition to the DELTAS AGM Gateway, AAS Open Research has launched multiple Gateways and Collections over the past year. Launched in January this year, The African Population and Health Research Center Gateway has already published five articles exploring issues on population health and wellbeing. Already 2020 has seen the launch of two new content Collections on AAS Open Research. The Climate Collection brings together climate-related content from across the platform, in particular papers published by researchers from the CIRCLE and CR4D AESA programs; we hope this collection will draw attention to the important research being conducted across the continent, especially in areas where the effects of climate change are already being felt. Our newest Collection focuses on the coronavirus and the current COVID-19 outbreak. The rapid publication model employed by AAS Open Research allows research to be made available as quickly as possible, thus supporting rapid and effective clinical, public health, and social and behavioral responses.
Looking ahead
It is clear that 2020 will be a year of monumental challenges for the scientific community and together with F1000 Research – who manage the AAS Open Research platform – we will continue to work with our advisory groups and wider research community to encourage our researchers to consider publishing their research outputs on AAS Open Research; where their research can be made available more quickly than the traditional publishing model, and in ways which support openness, transparency, inclusivity and cost effectiveness.

---