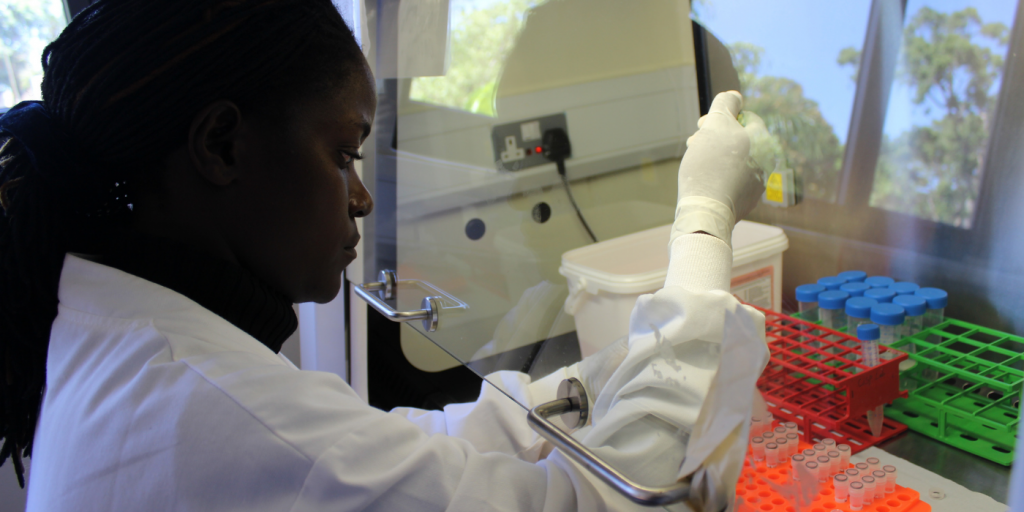 Fiona Luboga from MUII-Plus introduces the new MUII-Plus Gateway on AAS Open Research, as we highlight some of the top articles to look out for from the new Gateway.
The Makerere University – Uganda Virus Research Institute (UVRI) Centre of Excellence for Infection & Immunity Research and Training (MUII-Plus) is a collaborative capacity building and research programme supporting excellence in infection and immunity.
Based at the UVRI campus in Entebbe (Uganda), the centre is a partnership between Uganda's leading health research institute (the Uganda Virus Research Institute, UVRI) and Makerere University – the country's oldest and one of the most prestigious universities.
The centre is supported by world-leading external collaborators – the University of Cambridge and the London School of Hygiene and Tropical Medicine (both UK), among others. It has been in existence for 12 years, supporting the emergence and success of a dynamic group of young Ugandan scientists as they learn how to harness cutting edge tools in basic sciences.
Introducing the MUII-Plus Gateway on AAS Open Research
The MUII-Plus Gateway on AAS Open Research will serve as an outlet for showcasing research outputs from MUII that have been published through AAS Open Research, as well as posters presented at meetings and news. We hope that the Gateway will increase the visibility of our Fellows' research and citations to scientists as well as the general public.
The AAS Open Research transparent publication and peer review model means that research results can be made immediately available to not just others within the researchers' communities but also beyond, including other scientists and the general public.
There will be easy access to research material from all fields which will in the end spur interdisciplinary and multidisciplinary research endeavours from fellow researchers, as well as better access to articles authored, regardless of their economic status or geographical location.
"We are delighted to have the opportunity of the AAS Open Research platform to share our findings in research, and our experience in research capacity development, in Africa and for Africa," adds Alison Elliott, MUII Centre Director.
Gateway at a glance
As we introduce the new MUII-Plus Gateway, we explore a selection of three articles from the Gateway so far.
1 – A Journey of Hope: giving research participants a voice to share their experiences and improve community engagement around advanced HIV disease in Uganda
In this Open Letter, the authors outline their community engagement experience in Uganda, following many years of working with HIV community engagement initiatives as research volunteers, dispelling myths and raising awareness around HIV research.
I love this one because
1) the study nurses are co-authors. They are central to all research activities and the ❤️ of the team.
2) the AAS open review process has been brilliant – transparent, quick, constructive and cost £0. @MUIIPlus @amnet2020 @IDIMakerere @F1000Research https://t.co/0R8aqrC43C

— Fiona Cresswell (@cresswell_fiona) October 5, 2020
As reviewer, Angela Kaida (Simon Fraser University, Canada), explained:
"These efforts aimed to give clinical research participants a voice in sharing their experiences of participating in research, further messages of hope around advanced HIV disease, dispel HIV-related myths and stigma, and disseminate recent research findings. I thank the investigators and co-authors for sharing their experiences and insights."
2 – Ethical and scientific considerations on the establishment of a controlled human infection model for schistosomiasis in Uganda: report of a stakeholders' meeting held in Entebbe, Uganda
This report summarises a stakeholders' meeting where a controlled infection model for Schistosoma mansoni in Uganda was discussed. After summarising key points raised and reviewing the disease burden, biology, and epidemiology of schistosomiasis, the authors summarise the next steps for developing controlled human infection models for schistosomiasis in Uganda.
3 – Career development for infection and immunity research in Uganda: a decade of experience from the Makerere University – Uganda Virus Research Institute research and training programme
This Research Article describes an internal evaluation of MUII's achievements, challenges and lessons learned, reportedly to 'inform programmes seeking to build Africa's health research expertise'.
Browse articles in the MUII-Plus Gateway >>
Additional information
MUII-Plus key areas of focus include:
Immunology, bioinformatics and computational biology (BCB)
Maternal, neonatal and reproductive health
Mentorship and professional development
Training programme, internship programme, and the fellowship programme.
The programmes have fellows recruited at Masters, PhD, post-doctoral and research group leader level. PhD and post-doc fellows receive funding to allow travel to work with collaborators outside Uganda in 'sandwich' attachments. The programmes have so far supported more than 64 fellows, including 50 fully MUII-funded (3 group leaders, 15 post-docs, 17 PhD fellows, and 15 Masters fellows) and 15 honorary fellows (10 PhD and 4 Masters fellows).
---