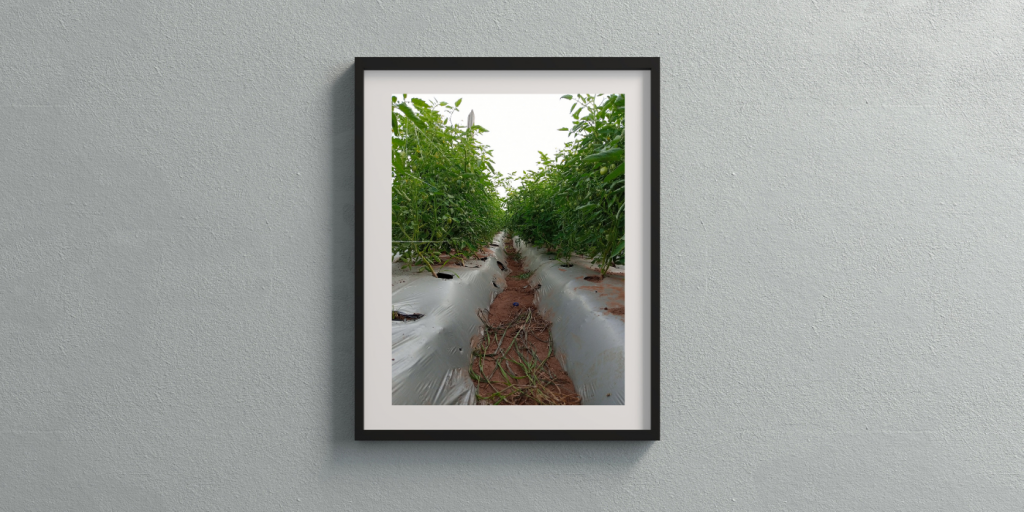 Over the next few blog posts in this series, we will be taking a closer look at the AAS Open Research Photography Competition's winning entries, further exploring the stories of research behind each image.
For this final Q&A, we spoke to runner up, Oluwatosin Ogunsola from the Federal University of Technology Akure (Nigeria), about his research interests behind the photograph of the use of plastic mulch in achieving sustainable tomato production on a farm in Nigeria, West Africa.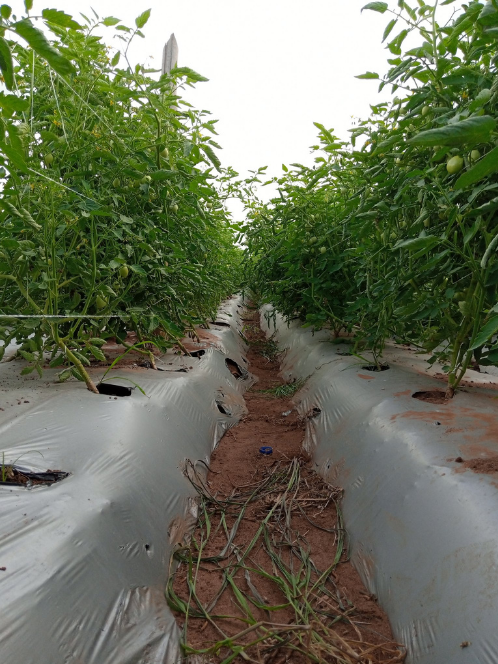 The plastic mulch controls weed, eliminates erosion and reduces the effects (evaporation) of light rays from the sun thus enhancing efficiency in water use and creating a micro-climate for soil ecology.
A Researcher, Consultant and Advocate currently living in Akure with interests cutting across nature-based solutions, soil ecology, food security, sustainability, degradation and climate change, Oluwatosin Ogunsola conducts academic and field research while engaging qualitative and quantitative analytical tools in its execution.
Ogunsola is also a development professional in human rights, livelihoods, health, education, leadership, climate and entrepreneurship. Much of his engagement within the development space is centered around projects that impacts the lives of children and youth.
As a player within the agribusiness space, he has honed his skills to deliver value in the production of fruit vegetables at scale within the West Africa business environment, affording him membership with the British Ecological Society, International Food and Agribusiness Management Association as well as the Connected Virus Network (Community Network of African Vector-Borne Plant Viruses).
Ogunsola is the Chief Executive Officer of Templus Agro-Consults Limited, Project Officer of Sustainable Green Environment Initiative, State Coordinator of Impact Youth Sustainability and serves as a Director on the board of Global Socio-Economic and Financial Evolution Network – African Continent. Among other projects, Ogunsola is also a Social Media Activator for #AnatomyOfAction by UNEP MGCY and a Global Landscape Forum Social Media Ambassador for 2021.
How did you become interested in photography – is it a hobby of yours?
"The interest I have in photography stemmed from how much I appreciate the aesthetics and beauty of nature."
This interest encourages me to take pictures of unique features and keep them, as well as showcase them within my network. This became a hobby over the years however, I have used some photographs to document my advocacy engagement, research projects, production processes and personal tours.
Where was this photo taken?
This photograph along with a few others submitted in this series (pictured below) were taken from production processes on a tomato field in Ogun State, Nigeria. The series highlights improvements to achieve sustainable tomato production via the adoption of technological solutions to enhance productivity.
How was this photo taken?
The photos were taken at close range with a phone camera (Tecno Camon 12) at high picture quality to accentuate key features clearly. The pictures were taken using the portrait view at a 90° angle.
Can you explain in detail what is happening in the photo?
"Open field production of fruits and vegetables is laden with many attendant challenges, including atmospheric conditions, pest infestation, weeds, etc. These challenges require innovative management practices to enable producers to attain maximal productivity."
Prior to the introduction of mulching film (plastic mulch), executing irrigation was a daily routine with over 50,000 liters of water utilized per hectare with considerable amount lost to evaporation. This reduced the available soil water needed by plant roots for nutrient uptake and turgidity (1–2 liters of water are needed to sustain each tomato plant per day), to execute its metabolic activities and tolerate stress.
After the introduction of mulching film, water balance to keep soil at field capacity was significantly reduced by 40% as less than 33,000 liters of water is being used to recharge a hectare of land under cultivation. Weed suppression was significant, with a 75% reduction in herbicide application and eradication of competition with crops (tomato). There has also been a 25% reduction in fertilizer use since there is little/no effect of leaching and erosion during the period, keeping nutrients intact within the root zone.
The mulching film has a grey outer layer which reflects light rays from the sun, reducing penetration and the warming of soil aggregates whereas the underside covering the soil has a black, heat-absorbing inner layer. This promotes a micro-climate that conserves moisture, retains internal warmth, promotes microbial activities in the rhizosphere soil and stiffens life out of germinated weed seeds. The effects of light intensity from the sun was significantly reduced even though the sunshine hours (duration) remained the same.
The use of mulching film is a potential climate-smart approach for crop production owing to the impacts it has in the sustainable use of a scarce resource (water), reducing weed proliferation (maximizing productivity), reducing herbicide application (environmental protection) and maintaining soil biota (biodiversity conservation) for enhanced soil management along production cycles.
Why is the scene or subject matter interesting?
"Sustainable production and consumption is at the heart of the Global Goals (officially known as the Sustainable Development Goals), thus giving credence to the adoption of solutions that create a shift from conventional methods of production to a more climate-smart approach."
In this case, the approach is tailored to the use of mulching film. At the consumption end, the use of plastic crates for post-harvest operations has reduced loss from handling during harvest and logistics to less than 1%.
This research took into consideration Sustainable Development Goals 2 (zero hunger), 6 (clean water and sanitation), 12 (responsible consumption and production), 13 (climate action) and 15 (life on land).
Find out more about the other winning entries for the AAS Open Research Photography Competition:
>> AAS Open Research Photography Competition: winners announced!
>> A peek behind the photograph: mosquitoes and vector-borne disease research in Cape Verde
> A peek behind the photograph: exploring fish welfare and health management in Ghana (opens in a new tab)">>> A peek behind the photograph: exploring fish welfare and health management in Ghana
---